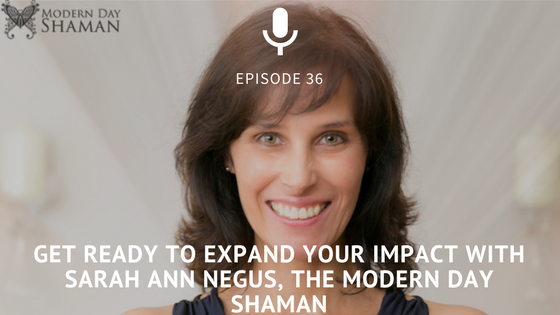 You want to make an impact in your life whether it's on yourself, your friends, your family, your kids or your clients. You might even want to make a bigger impact and have it reach out to hundreds of people. No matter what the level you're aiming to reach the one way you are going to get there is by exploring who you are and what your potential is.
In Episode 36 – Get Ready To Expand Your Impact, Sarah Ann Negus, The Modern Day Shaman and Spiritual Teacher and Mentor takes us deep into the understanding of exactly how we can do that. How we can step into the role we are destined to live in this life and to come fully into WHO we really are. Sarah believes that this starts with her and you, and together we can bring true, lasting change for our lives and the world. Change towards kindness, compassion, acceptance, integrity and recognition that we are all in this together… and… individually we can make a difference by being who we came here to be.
Listen as Sarah takes us along on her own personal healing journey and shows us exactly what work has to be done in order to truly heal one-self and begin to create the impact we each are meant to.
Whether you're new to spirituality or a seasoned healer. This is an episode with an amazing opportunity to better yourself and your impact on every single person you touch.
If you are ready to take your work and your life to the next level and really understand who you are then check out Sarah's group program Expand Your Energy, Expand Your Impact by clicking here. For a limited time you will also receive FREE gifts for joining.
To connect with Sarah Ann Negus visit her website at www.sarahnegus.com or reach out to her on Facebook at Sarah Ann Negus .
In the Episode Sarah also shares with us the amazing private Facebook group she runs called Expand Your Energy, Expand Your Impact with Sarah Ann Negus and invites everyone to join.
To follow Sarah on her radio show follow this link: http://www.newsforthesoul.com/shows/modern-day-shaman/
As always to connect with the show please visit us at Breaking Through Walls on Facebook or @CarrieCardozo on Instagram.
In the episode Carrie and Sarah talk about the book "The Teachings of Don Juan" Click here to find out more.