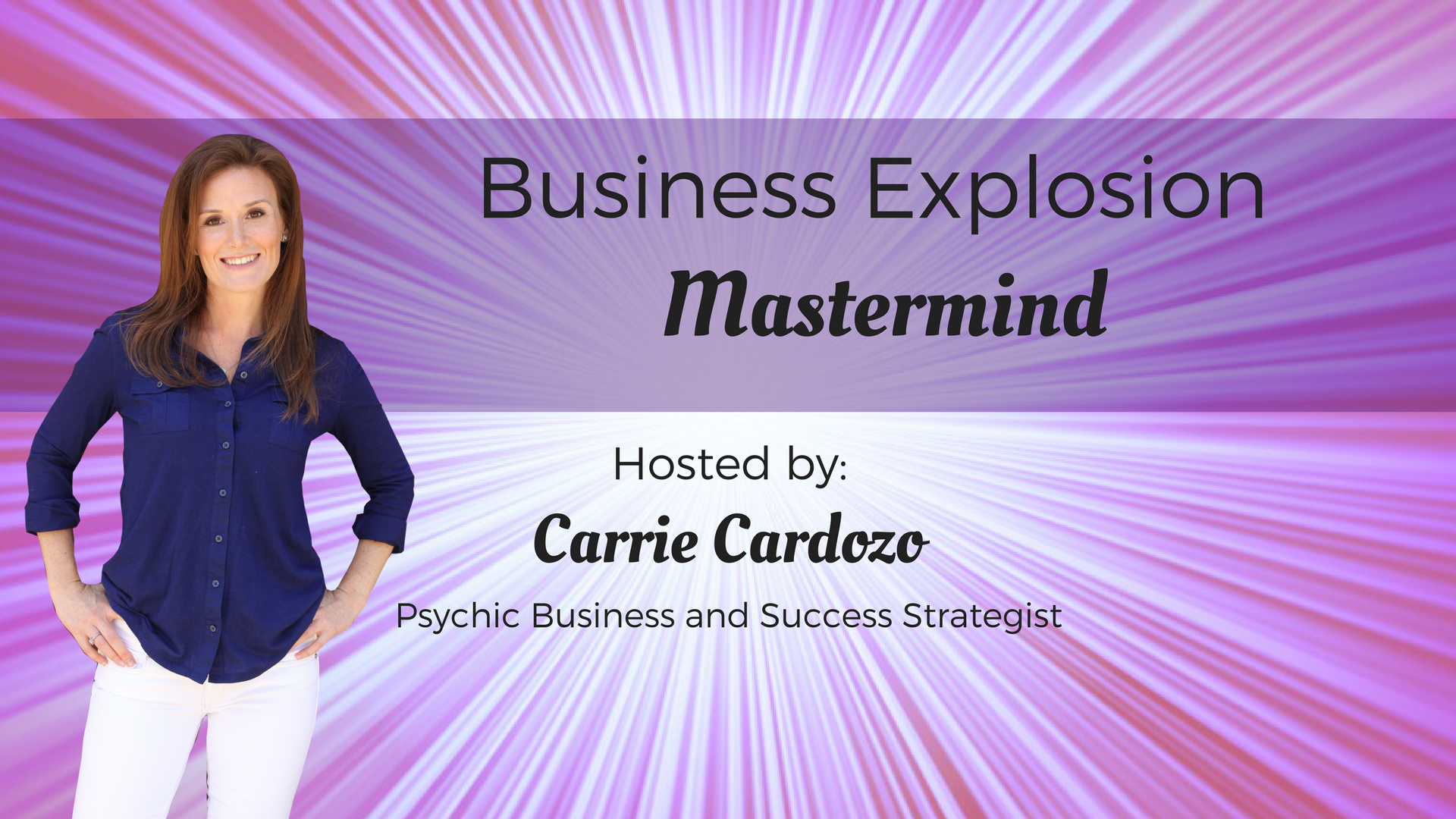 Are you done with not getting the results that you want in your business?
Are you tired of seeing the money trickle in at best and not having the money you desire?
Are you sick of floundering around, trying one thing then the other, and not getting the results you want to see?
Have you had enough of the struggle?
Are you ready to completely transform your BUSINESS and start reaching those $10,000 months and beyond and truly make your business into the success you always dreamed it would be?
If you are DONE playing small in business then this Business Explosions Mastermind is exactly what you need!
No more guessing at what the next step should be.
No more feeling like your taking shots in the dark at growing your business and bringing in clients.
You deserve to have the knowledge you need, the guidance that's available to you, and the SUPPORT that you DESERVE!
And that is EXACTLY what YOU are going to get.
In The Business Explosion Mastermind you are going to get all of the tips, tool, guidance and strategy that you need to be able to grow your business to the level of true success and massive impact. You are going to get continued support to help you unravel the intricate parts of business, to gain clarity on the what and HOW of your services, the step by step assistance in getting your message out there and into the right hands, and how to maintain It all while still GROWING!
The Business Explosion Mastermind is going to help you to take your business to the next level and allow you to truly see the results you desire and the income you deserve.
The Business Explosion Mastermind is a 12 MONTH group mastermind set up to give you all of the support, resources and knowledge you need to get your business built on a strong foundation and then reaching the level of financial and energetic success you desire.
I use my EXPERIENCES and my CHANNELING abilities to guide YOU to create an amazing business strategy for your specific needs while removing all the obstacles in your way and doing ALL the INNER work that is necessary for that success and expansion in your business to continue!
Each week we are going to come together and wild and develop your business. Being all the integral parts into one to create something solid and profitable!
Gone are the days of feeling alone!
Gone are the days of struggling for money!
Gone are the days of not knowing what to do to get your business to WORK!
Gone are those times of looking around and seeing others building the business YOU desire!
Over the course of our time together we are going to cover EVERY aspect of business and all that It entails to make It financial profitable and successful for you.
This Mastermind is like NO OTHER out there.
The Business Expansion Mastermind is not just about business strategy, but we also bring together the much needed balance of healing and psychic guidance into your business EXPANSION!
If you're ready to finally start seeing the results you desire and seeing your business apart from the rest, then you DO NOT want to miss this!
During out time together you will get:
Business alignment techniques
Goal setting per month/year that's channeled.
Business Strategy
Marketing Strategy
Optimal Sales Structure
Visibility Avenues
Program and Service Creation
Productivity Guidelines and Restructuring
Routines and Schedules that Align with You
Technology Support and Recommendations
Direction Creation
Personalized Business Structuring and Expansion Map
You are also going to receive:
Healing: As we build you business we are going to be sure to continually remove all the limiting beliefs, energetic blocks and self-sabatoging ways that you are keeping yourself back.
Channeled Guidance: Each WEEK you are going to be able to receive channeled guidance to help you stay aligned, centered in your purpose and moving towards your life's work.
IN PERSON RETREATS: As online business owners we get stuck behind a screen, but not in this program. We are going to be creating opportunities to be meeting in person FOUR times during our time together to spend several days working to build and expand your business even farther!
All of this at an unbelievably low price of:
This payment is due upon signing up and will be paid in FULL
A payment of $1,200 is due upon signing up and every month moving forward.
A payment of $650 is due upon signing up and every other week after that for 24 payments total.
Let's Increase the Level of This!
THIS MASTERMIND COMES WITH MANIFESTING MAGIC!!!!!
That's right, this program would NOT be complete with out an AMAZING manifesting program, and my Manifesting Magic Program is exactly what you need to dive deep into the things that are keeping you stuck from receiving the money you want and NEED!
Manifesting Magic is a 16 module course designed to teach you exactly what to do to manifest the MONEY you want into your life. It's had AMAZING RESULTS and comes with a POWERFUL Collective Energy called Zacaria. It's helped people manifest THOUSANDS of dollars, cars, clients, vacations, homes, and SO MCU MORE!!!
You are not alone in this and you shouldn't have to carry EVERY aspect of your business all on your own!
The Business Explosions Mastermind is an opportunity for you to get everything you need to create that successful business, the structure and strategy you need, and the guidance that is going to get you in the most aligned energetic relationship with your business, your purpose and your clients.
This program is ONLY open to 12 people who are COMMITTED, DETERMINED, and READY to put in the TIME, the MONEY and most importantly the WORK that It takes to get to the level they desire.
This is NOT for you if you don't like to be pushed outside their comfort zone!
This is NOT for you if you want someone else to do It for them.
This is NOT for you if you do NOT want to get serious about your future, your money and your impact!
BUSINESS EXPLOSION MASTERMIND
WILL get you aligned!
WILL get you clarity!
WILL get your determination level up!
WILL get you ALL the business strategy YOU need!
WILL give you the Divine Guidance!
WILL support your healing!
WILL show you how to MANIFEST!
WILL teach you how to work WITH the energy around you!
WILL give you all the support, validation, encouragement and trust you NEED to reach those $10,000 months and BEYOND!!!
If you're READY to make the BIGGEST changes, make the GREATEST impact and EXPLODE your business growth…..
YOU DO NOT WANT TO MISS THIS OPPORTUNITY!!!
Is 2018 going to be the year you sit back and watch other hit milestone after milestone in their business OR
Are YOU going to decide the 2018 is going to be YOUR year for life changing success and impact?
Space is limited as I will only be opening this Mastermind up for 12 people, so DO NOT DELAY!
We start January 3rd 2018!!
WILL YOU BE THERE?
All of this and so much more for an investment of
This payment is due upon signing up and will be paid in FULL
A payment of $1,200 is due upon signing up and every month after for the year.
A payment of $650 is due upon signing up and every other week after that for 24 payments total.
If you're not sure if this Mastermind is a fit, or you have any hesitation at all, PLEASE reach out to me and let's work it out so you CAN get into this program that WILL CHANGE YOUR LIFE!