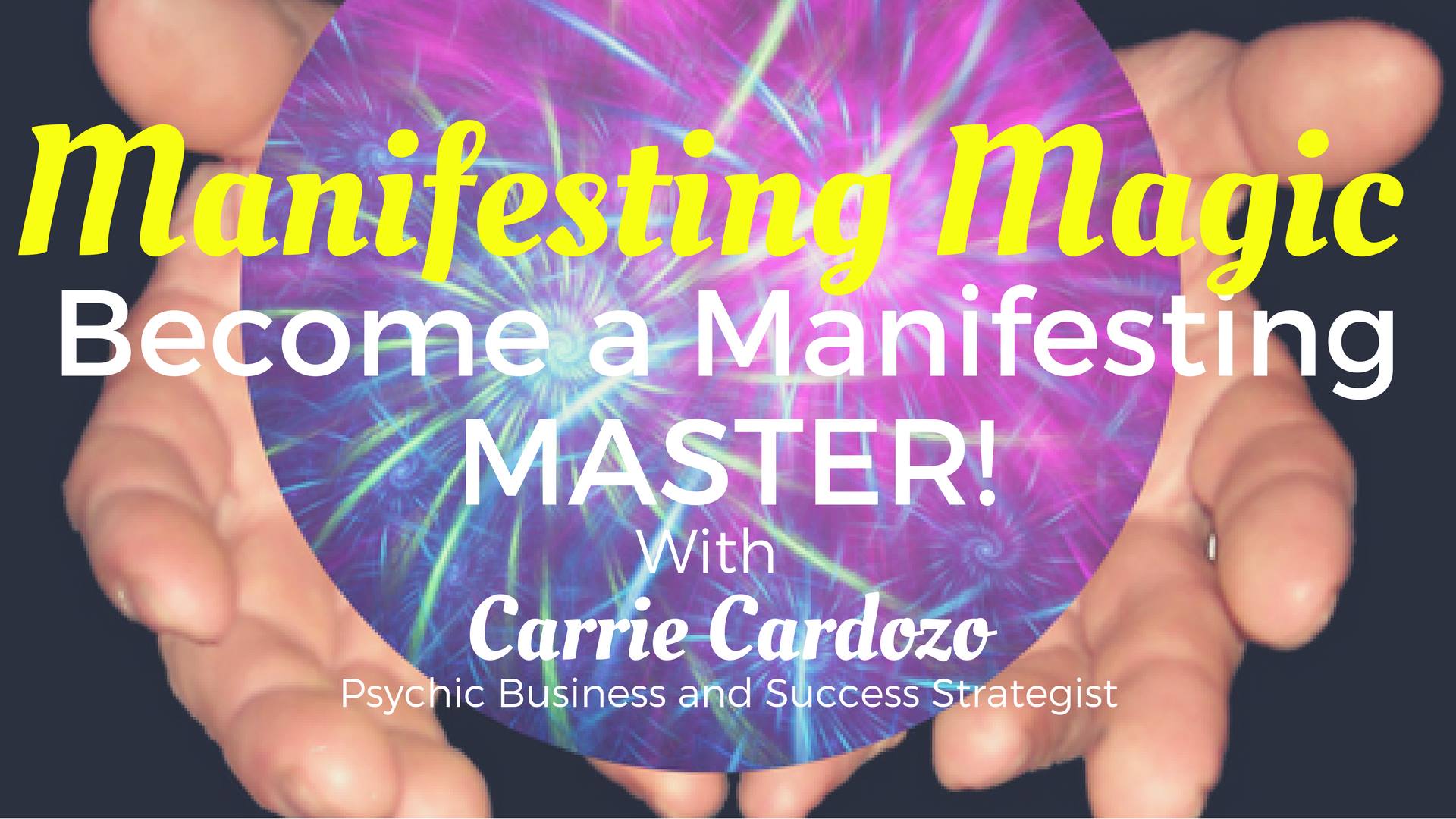 Are you tired of hearing how everyone else is bringing in the money they want?
Are you frustrated with never getting the sales you desire in your business?
Are you giving and giving and just waiting for the money and abundance to flow to you?
Do you want to learn how to connect with the flow of abundance and manifest ANYTHING you DESIRE?
Are you completely ready to move away from your lack mentality, the constant STRUGGLE for what you want and open yourself up to the never ending FLOW of ABUNDANCE?
Then you are ready for MANIFESTING MAGIC!!
Abundance is an energy that is available to EVERYONE.
Tapping into that energy is VITAL in order to MANIFEST with SUCCESS.
You came here to live a life FULL of exactly the things you DESIRE, the things you WANT and all that you DESERVE!!!
WE ARE GOING TO CONNECT YOU TO ALL OF THAT AND MORE.
In Manifesting Magic we are going to allow you to say good-ye to the days of struggling for money. We are going to help you remember exactly who you are, what you are able to manifest, and connect you with the energy of what it is you want. We are going to remove limiting beliefs, heal from the past dramas that are preventing you from receiving abundance, and dig deep into all that's showing up in your energy around MONEY and WEALTH..
Manifesting Magic is going to be the program that opens up the flood gates to your ability to manifest HUGE things into your life.
Manifesting Magic is an 8 week group program that is designed to get you manifesting all of the magic you deserve in life.  It's going to help you to stop ll the things that you have been doing to push money and abundance away from you, to help you get into the energy if the exact amount of money you desire, and learn ways to receive the things you want most in life. Manifesting Magic is not just a course to show you how to obtain the things you want, but how to keep it and continue to have an unending flow of it.
In each module of Manifesting Magic we will be coming together to tune into what the energy wants us to know and what's the most important things you need to do to manifest while using MY tried and true system for manifesting abundance that allowed me to earn all into the six figures, bringing in consecutive FIVE figure months, and manifest everything I desire.
Gone are the days of watching others receive the money YOU need.
Gone are the days of not having enough to pay your bills.
Gone are the days of struggling to make ends meet and invest in YOU.
Gone are the days of feeling ANY type of lack around money, wealth, abundance and opportunities.
This is a one of a kind, incredible program where I throw all of the rules out the window and allow the energy to lead or teaching.
In Manifesting Magic we are going to be catering each and every single teaching to exactly what the energy of the group needs.
Each week you will receive not ONE, but TWO teachings, receive guidance and learn exactly what you need to do to increase your manifesting magic!
In the eight weeks that we are together you will get:
SIXTEEN 30+ minute lessons on exactly what you need to do.
PDF Workbook to enhance the lessons.
TWO (minimum) healings to clear old beliefs, move you forward and heal where you soul is resisting.
Abundance meditation that connects you into the energy of YOUR desired amount of abundance and exactly what your manifesting.
Weekly manifesting messages from ZACARIA.
Weekly FB LIVES to do Q and A
Group Channeling Sessions
Private FB Group where you will receive DAILY support from me and other members.
Step-by-Step process for achieving your desires time after time after time.
LIFETIME access to everything we cover in this program and access to the FB Group.
AND ANYTHING ELSE MY GUIDES ASK!!!!!
If you're ready to finally start manifesting and creating the abundance and the LIFE you truly desire, then you will not want to miss this one of a kind opportunity.
All of this at an unbelievably low price of:
This payment is due upon signing up and will be paid in FULL
A payment of $968 is due upon signing up and the second $968 will be due a month later.
Extended Four Payments Plan
A payment of $488 is due upon signing up and three more payments of $488 will be due every other week.
Let's Increase the Level and impact of this offer!
THIS COURSE COMES WITH IT'S OWN COLLECTIVE ENERGY GUIDES!!!
That's right, this course was created with the help of THIRTY TWO Universal Guides who belong to the Collective Energy ZACARIA. Zacaria has come forward to work with the members of this group to enhance all the work we do, guide us in the EXACT steps to take, and facilitate ALL healings and energy working. Zacaria has been working with me for the last week in my group challenge and people have witnessed AMAZING results.
During the teachings of this course I call on and invite ZACARIA in to support you and and the energy of the program. I encourage you to call on these guides whenever you want or FEEL you would like their added support and energy. They are ALWAYS waiting to help.
If you DO NOT want to increase the abundance in your life, this is not for you.
If you AREN'T ready to open yourself up to RECEIVE, this is not the program you need.
If you AREN'T willing to commit to your FUTURE and the WEALTH that is all around you waiting to come in, then DO NOT sign up for this program.
If you're READY to manifest the things you desire, shift your finances around, and truly feel into your power around abundance…….
THIS IS THE COURSE FOR YOU!
When you purchase this course you will immediately be joining an amazing group of people who are living and acting in the manifesting energy with the PURPOSE to INCREASE their ability to manifest and be SUPPORTING YOU along the way as well.
Time is limited as I will only be opening this program up for a limited time so DO NOT DELAY!
Program launches on January 8th, 2018
The ENERGY, the SUPPORT and the KNOWLEDGE is yours for an unbelievable price of:
This payment is due upon signing up and will be paid in FULL
A payment of $968 is due upon signing up and the second $968 will be due a month later.
Extended Four Payments Plan
A payment of $488 is due upon signing up and three more payments of $488 will be due every other week.
If you're not sure if this program is a fit, or you have any hesitation at all, PLEASE reach out to me and let's work it out so you CAN get into this program that completely TRANSFORM your ENERGY and ABILITY to MANIFEST!!!