Intuitive Guidance
Single sessions to offer guidance on the situations and circumstances holding you back.
One-on-One Intuitive Coaching
Work one-on-one with Carrie to get a tailored plan to move your business forward and create the life you want.
Self Study Courses
Learn the groundwork you need to build a profitable and sustainable business focused on your purpose and passion.
Join the FREE FB Group to get daily advice, support and connect with others looking to change their lives.
Creating a Business and Life with Passion and Purpose
There is something that you absolutely love to do and your soul burns brightly when you do it. Now it's time to create a business that focuses on your passion, but you don't know where to start………
That's where I come in. My passion is business and guiding people to create and restructure them is what I love.
You've created a business doing what you love and that's making you money, but it seems like no matter what you do you don't feel satisfied or complete, and you know there is more you should be doing……
I will help you uncover your limiting beliefs, restructure your business and your life, and get through what's holding you back from building a business you love and reaching the level of success you deserve.
This is what I do best and what I LOVE!
Since starting my business in late 2014, I've worked with many different entrepreneurs and small business owners to help them understand what's really holding them back, to restructure their businesses to have more time in their day, to work more effectively, to focus on bringing value to their clients, to streamline their systems and procedures, and to unlock their power hidden within. 
As an intuitive business and success strategist I not only use my vast business knowledge and experience to guide you in making the changes you need, but I also use my innate abilities to hear and feel what the soul level issues are that keep you where you're at. I use my channeling abilities to hear what you should be doing, what you are meant for, and then we work together to create a plan do to just that.
For my clients it isn't just about making money, it's also about doing what they love, having time in their day for everything that's important to them and sharing what they have to offer with others.
My clients know they have a purpose here and they want to share that purpose with as many people as they can and truly make a difference in the lives of everyone they form a connection with. This doesn't just include their clients and their families, it also includes employees, vendors, associates, and followers.
Doing what you love and loving what you do makes all the difference in the world. There is nothing that should stop you or prevent you from living the life you desire and creating a business that helps you get there.
Make a commitment to yourself that no matter what struggle you face, what tragedy falls upon you, what path you've taken in the past, that today is the time for you to brea- free from what's holding you back and start creating your future NOW.
Business Expansion Session
Are you needing a new direction in your business?
Do you feel like you're stuck not knowing which direction to go?
Are you frustrated with your business and how things are working out?
If so, then a three hour Business Expansion Session where you can get the answers to your questions and remove your worries, fears, and struggles is perfect for you. You'll get TWO 90 minute sessions of channeled information and expert business advice to uncover where you're at, why, and then plan out exactly what you need to do to move forward in your life and business.
I'm Ready To Find Out More
Intuitive Coaching Program
Are you feeling lost in your business?
Are you not sure which way to turn or where to even begin?
Do you crave the support and guidance from both the spiritual realm and the expertise of a seasoned business consultant?
Do you KNOW that you are no longer willing to settle for less than you deserve?
If you're looking for continual support and expert guidance of a knowledgeable business professional and capable clear channel then Intuitive Coaching program is for you.
I'm Ready to Get Serious with My Business and Life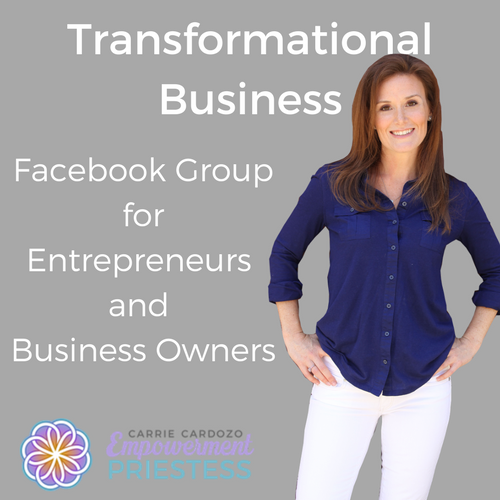 FREE Transformational Business Group
This group is designed to be a place where like minded individuals have the opportunity to come together, share, and create a business and a life that speaks to what their soul truly desires.
Transformational Businesses is a place where you can learn who you are on a deeper level, what your purpose is, how that purpose fits into your life and work, and how you can then share it with others.
If you're not yet sure exactly who you are or what your purpose is, then you are in the right place to release your limiting beliefs, get in-touch with your soul, and awaken the power deep inside you. When you do, you'll unlock your purpose hidden within. I invite you to join the group and experience what it's like to live your soul's purpose.
Join Group
Sign-up Today For Instant Access to "7 Steps to a More Purposeful Business"
Follow the link to get your FREE Guide on the 7 steps you need to take to create a more Purpose Filled Business today.
YES! I want that Now!